Crafty cocktails meets Mac & Cheese
Mac & Cheese Bar and more
At Canvas, Corks & Forks, Mac & Cheese is our specialty! We offer an all you can eat mac & cheese bar that is prepared fresh before each class with a variety of mouth watering choices.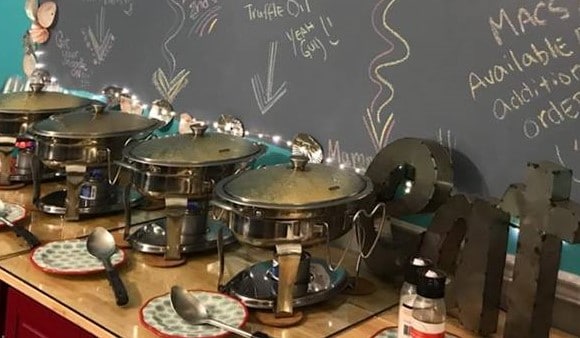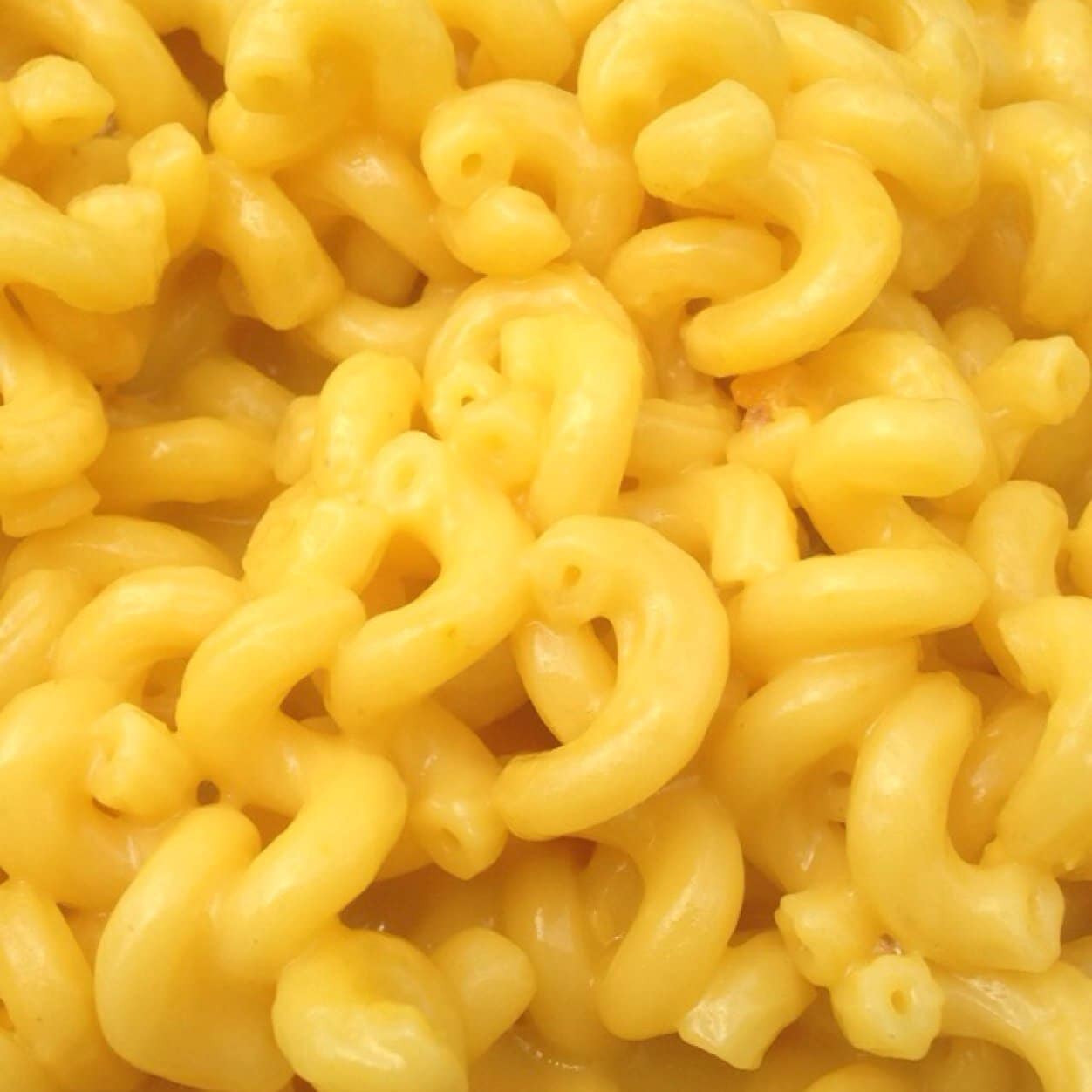 Mamma's Mac
Traditional 3-Cheese, classic Mac & Cheese style.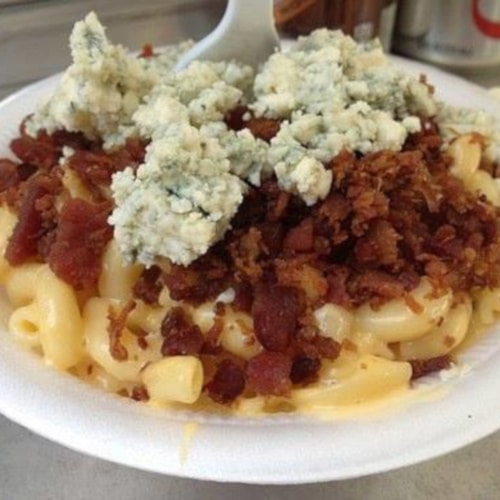 Bacon & Blu Mac
Two great flavors on top of classic Mac.  Mind, blown.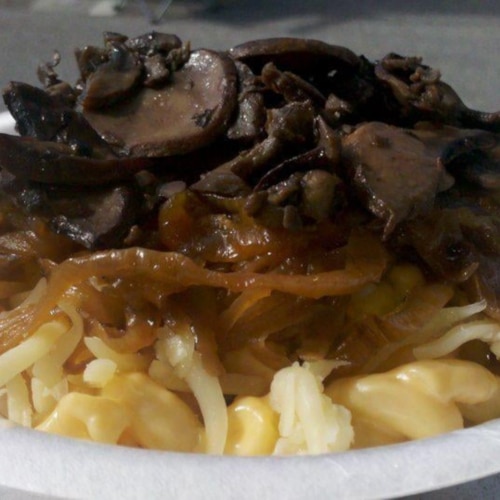 O'Shroom's Mac
Caramelized onions & sauteed baby bella mushrooms & drizzled with white truffle oil.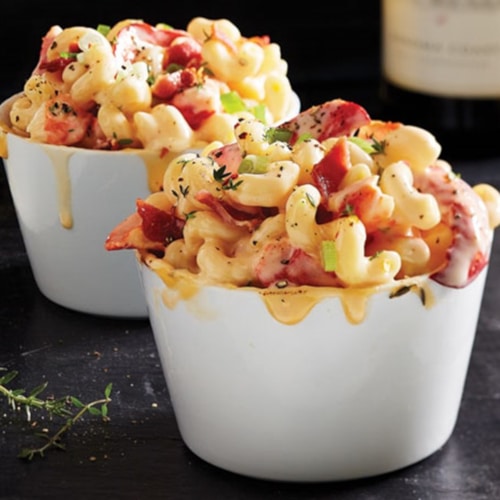 Roasted Red Pepper & Gouda Mac
A deliciously cheesy crowd favorite!
Boneless Chicken Wings
Just add your favorite sauce to finish them off!
Garlic Parmesan Truffle Oil

Sticky Buffalo

Cheesy Honey Pecan BBQ.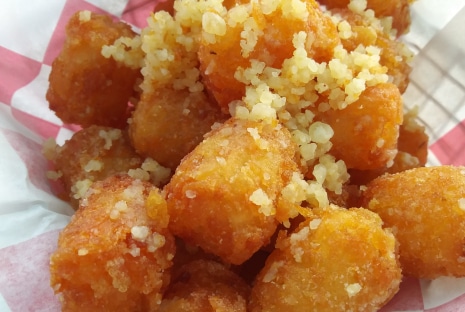 Tater Tots
Just like our wings sauces, choose your favorite sauce to top your taters!
Garlic Parmesan Truffle Oil

Sticky Buffalo

Cheesy Honey Pecan BBQ.
Specialty Drinks
Spirited drinks, crafty cocktails, draft beers and wines by the glass. Everything to get your creative juices flowing!
Peachie Picasso
Spirited vodka, peach puree, lemon & citrus bubbly!
Summer Sangria
White wine, peach & strawberry puree, lemonade & citrus bubbly:)
Matisse Mimosa 
With either Orange, Strawberry or Peach!
CC&F Mule
Spirited white rum mixed with basil simple syrup, strawberry puree and topped with local Nine Pin Hard Apple Cider!!
Pollock Punch Float
Rainbow Sherbert topped with ginger ale and pineapple juice…. Make it boozie by adding Vodka or Rum!
Cezanne Sunset
Spirited vodka, lemon, pineapple juice topped with cranberry floater:)
Homemade Red Cinnamon Sangria
Tempranillo red wine, cinnamon with notes of vanilla & citrus!
Whiskey Warhol Brown Ale Float
Tipsy Scoop Chocolate Whiskey Salted Caramel Ice Cream topped with local Wolf Hollow Brewing Pulpit Brown Ale!
Coconut Dream Martini 
White coconut rum served up chilled over a chocolate drizzle! Pina Colada Love!
Strawberry Dali
Spirited vodka, strawberry puree, lemon & citrus bubbly!
Apple Cider Sangria
White wine, fresh apple cider, citrus bubbly & red cinnamon floater. (seasonal)
Monet-Rita
Our version of a Margarita! spirited tequila with lemon & citrus, add strawberry or peach!
Sweet Tea Mohito
Vodka chilled with sweet tea,  lemonade & fresh mint from the garden!
Don't Forget Dessert
Our menu items are always changing with new, creative specials.   These are some of our classic desserts.  They are great endings to a great paint night.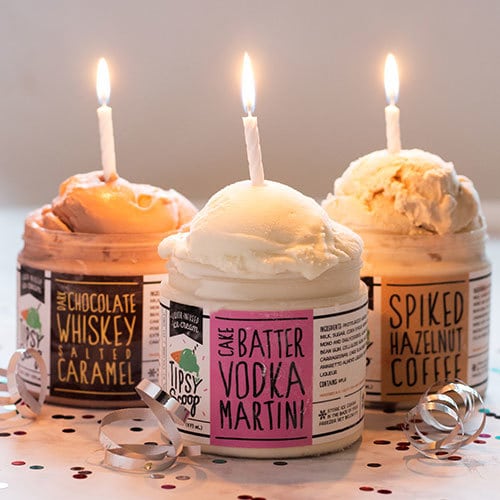 Tipsy Scoop Ice Cream
Our Featured Dessert!
A blend of a hand-crafted ice cream combined with a perfectly mixed cocktail.  Raise a pint and celbrate life with boozy ice cream!  Flavors include Cake Batter Vodka Martini, Dark Chocolate Whiskey Salted Caramel and Spiked Hazelnut Coffee. 
S'More Sushi Rolls
S'More Sushi roll is prepared with homemade rice crispy treats rolled up with marshmallows, dark chocolate & graham crackers!
* Gluten free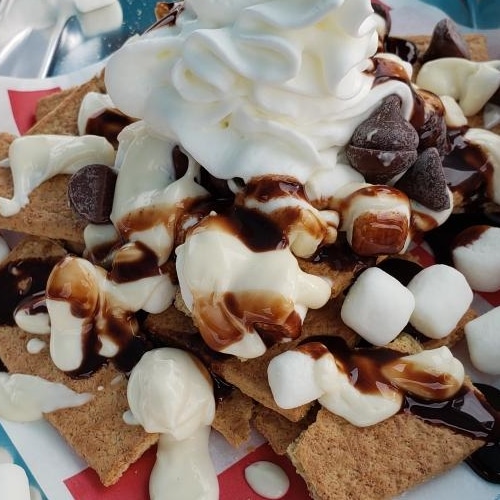 S'mores Nachos
Its like the restaurant classic of nachos but with a twist!  Graham chips, marshmellows, chocolate chips, whipped cream.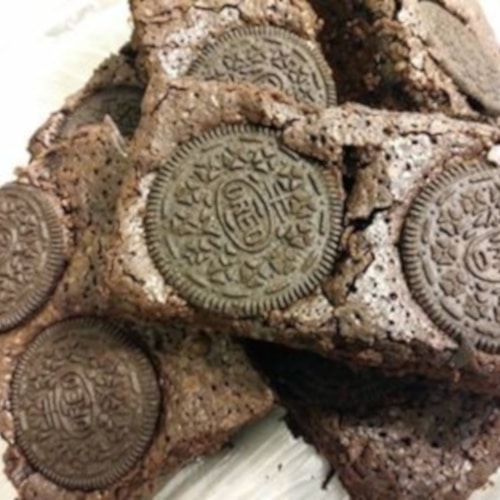 Brownie or Chocolate Chip Sundae
You can order it warm with melted vanilla or Tipsy Scoop Ice Cream! 
Red Raspberry Sorbet
After a rich food and crafty cocktails, sometimes you need a simple and classic dessert.